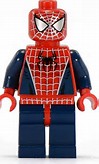 Spider-Man was a theme tie-in between LEGO and Columbia Pictures. It was a full line of sets featuring characters from the first two Spider-Man movies.
In 2002, Spider-Man at first was a sub-theme of Studios, and concentrated on creating a Spider-Man movie with LEGO, instead of the actual story of the films.
Later, in 2003, the sets were no longer part of the Studios theme, and focused on recreating the movie events from the first film with LEGO, like the majority of movie based LEGO sets.
In 2004, the Spider-Man 2 subtheme was released, and then the theme was discontinued.Spider-Man (4 Plus), a 4+ Spider-Man theme, was also released during the same year.
In 2012, the Spider-Man theme returned as part of the Marvel subtheme of Super Heroes. Unlike the 2002-2004 movie-based Spider-Man series, the Super Heroes Spider-Man sets are based off of the TV series Ultimate Spider-Man. Currently the new sets bare no resemblance to the previous theme and so far only Spider-Man, Doc Ock, and J. Jonah Jameson have been redesigned.
In LEGO Marvel Super Heroes, it has been confirmed that Green Goblin will appear.
Minifigures
Edit
Spider-Man 1 (Studios, 2002)
Edit
Spider-Man 1 (2003)
Edit
Spider-Man 2 (2004)
Edit
Spider-Man (4 Plus) (2004)
Edit
Community content is available under
CC-BY-SA
unless otherwise noted.